>
"........On the other hand, ISIS has maintained contacts and some relations with the Ministry of the Syrian regime of oil, by keeping some of the staff who are still linked directly to the ministry mentioned, for example, he has kept the on the gas production of

Deir ez-Zor

and Homs fields and ensure the delivery of it to regime areas against the committed of these staff and some intermediaries to keep give money remittances continuously to safes of ISIS,...."
[

From

Raqqa is being slaughtered silently blog - http://www.raqqa-sl.com/en/?p=1568
Reported in my: http://control-avles-blogs.blogspot.it/2015/12/predictive-programmin-in-name-of.html ]
* * *
Kurds Deny Russian Claims That Turkey Buys IS Oil



The Moscow Times
Dec. 04 2015 18:41
Last edited 18:43
http://www.themoscowtimes.com/news/article/kurds-deny-russian-claims-that-turkey-buys-is-oil/551797.html

Russia's Defense Ministry / YouTubeA screenshot from a video showing tanker trucks transporting oil.

The Iraqi Kurdish Regional Government (KRG) on Thursday said that satellite photos presented by Russia's Defense Ministry this week showing Islamic State militants selling oil to Turkey were in fact images of Kurdish trucks, the Turkish state-run Anadolu news agency reported.

KRG spokesman Safeen Dizayi told the news agency that the Islamic State, an extremist group banned in Russia, is not selling oil to Turkey — as President Vladimir Putin and a number of Russian officials have asserted in the two weeks since Ankara downed a Russian military jet.

The head of KRG's energy commission, Serko Cavdet, told Anadolu that the images showed Kurdish tanker trucks transporting oil from a region under their control to the Turkish Port of Ceyhan, and that the Islamic State could not have transported oil through Kurdish territory, as they are fighting the extremist group.

"The KRG exports its oil via pipelines and tankers to Turkey for sale to buyers around the world," Cevdet said. "The Russian satellite images showed these tankers … Russia has no proof of any oil transactions between Turkey, the Kurdish region, and the Islamic State," he said, referring to IS by another name.

Turkish officials have also denied Russia's claims. Turkish President Recep Erdogan went so far as to promise Putin he would step down if allegations that Turkey was buying IS oil were revealed to be true.

See also:

Turkey Won't Introduce Visa Requirements for Russians — Embassy

Turkish Foreign Minister: Turkey Expressed Condolences to Russia

What's in a Name? Russia Replaces 'Islamic State' With 'Daesh'
http://www.dailysabah.com/diplomacy/2015/12/04/germany-one-by-one-debunks-russian-claims-that-turkey-trades-daesh-oil
Germany one by one debunks Russian claims that Turkey trades Daesh oil
DAILY SABAH
Published

December 4, 2015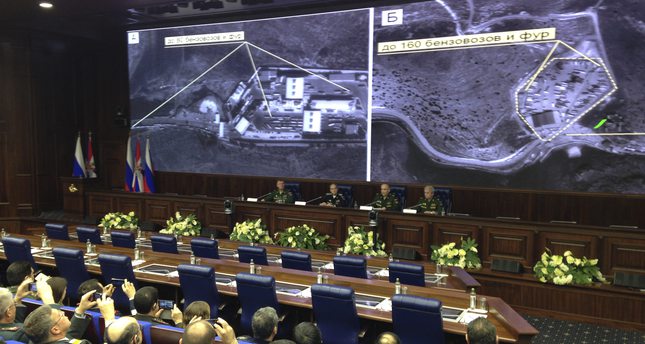 Russian top military officials speak to the media in front of an aerial images they say are oil trucks near Turkey's border with Syria displayed by the Russian Defense Ministry, Dec. 2, 2015. (AP Photo)
As Russia's allegations that Turkey is trading oil with the Daesh terrorist organization grow weaker every day, Germany has also joined the 'mythbusters club', along with the U.S. and Iraq's Kurdistan Regional Government (KRG), by debunking all Russian satellite images that 'allegedly' prove that Turkey is involved in oil trade with Daesh.
Germany's weekly news magazine Der Spiegel (The Mirror) analyzed individually every satellite image displayed at the Russian briefing last Wednesday allegedly showing 'proof' of Turkey-Daesh oil trade.
In the analytical report published on the web, Der Spiegel specified all the locations and dates of the satellite images shown by Russian Deputy Minister of Defense Anatoly Antonov.

At a briefing in Moscow on December 2, organized by Antonov, Russian defense ministry officials and the public were shown satellite images which 'revealed' columns of tanker trucks loading oil at installations controlled by Daesh in Syria and Iraq, and then crossing over the border into neighboring Turkey. Antonov had claimed that Turkey was trading oil with Daesh on an 'industrial level'.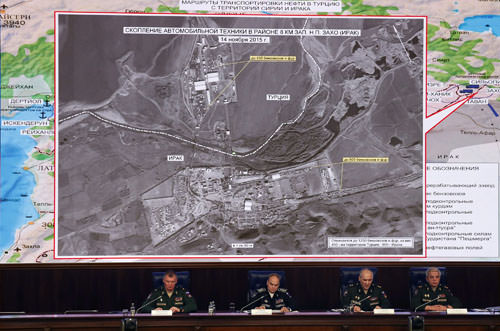 The satellite image shown above, dated November 14, 2015, was shot in the region of Zakho in northern Iraq and shows Zakho and Turkey. However, this image in no way verifies the claims of Putin as these regions are not controlled by Daesh, but in fact Peshmerga-controlled areas. In addition, trade between Turkey and the Kurdish Regional Government in northern Iraq is still continuing under normal conditions.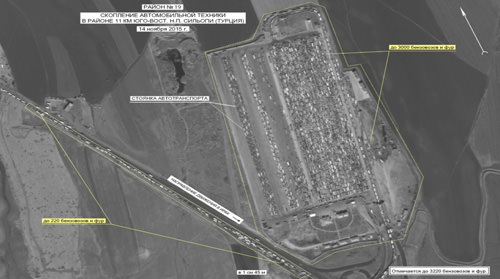 This image, also dated November 14, shows the southeastern Turkish town of Silopi in Şırnak. Zakho is located directly opposite of Silopi. Known as one of the safest areas on the Iraqi border, Zakho shelters many refugees fleeing Iraq and terrorist organizations like Daesh in Syria.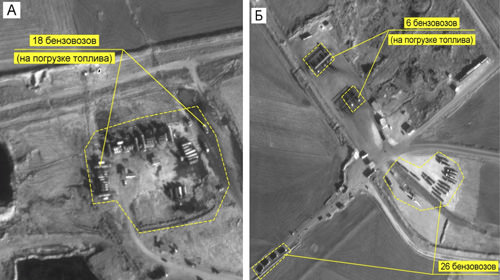 This satellite image was taken in the east of Syrian city Deir ez-Zor city. According to Russia, 390 oil tankers are seen in this image. But an explanation about the date of the image was not given. It is vague what Antonov wants to prove with this photo.

Deir ez-Zor

is currently partly in hands of the

Assad regime

in Syria and partly in

Daesh

's control. [my bold red characters; read 'em in relation with the excer

pt from
Raqqa is being slaughtered silently

in the prologue of this post - avles]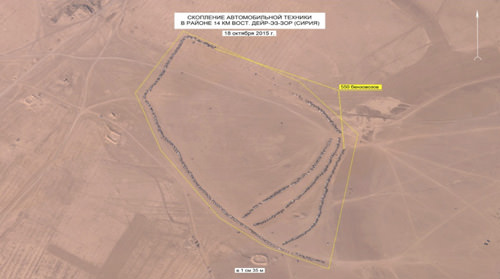 This satellite image was taken in the east of Syrian city Deir ez-Zor city. According to Russia, 390 oil tankers are seen in this image. But an explanation about the date of the image was not given. It is vague what Antonov wants to prove with this photo. Deir ez-Zor is currently partly in hands of the Assad regime in Syria and partly in Daesh's control.

Turkish President Recep Tayyip Erdoğan had last week denied that Turkey procures oil from anything other than legitimate sources.

Subsequently, the U.S. had said that it rejected the premise that the Turkish government was in league with the militants to smuggle oil. "We frankly see no evidence, none, to support such an accusation," State Department spokesman Mark Toner had said.
Later on, Sherko Jawdat the chairman of the KRG Parliament's Energy Committee, had said on Thursday that the oil tankers shown in the aerial photos and footage presented by Russia as evidence of the alleged trade are in fact carrying oil from the KRG to Ceyhan terminal in southern Turkey.
Furthermore, KRG spokesman Safin Dzayi had said his government was saddened by Russian accusations, adding that "Russia's explanations are based on wrong sources" as it strongly rejected Russian accusations.
Dzayi explained that the oil extracted from the Duhok and Badinan regions is largely shipped to Turkey through pipelines, and the remaining amount is being shipped with tankers.
* * *